The upcoming new album from dark hard rock project September Mourning is part of a unique and ambitious transmedia art project centered around a character of the same name. In the storyline, September is 'a human-reaper hybrid, who feels the need to give some human souls a second chance at life, and thus disregards the direct orders of Fate.' In addition to a comic book developed in collaboration with Top Cow Comics CEO Marc Silvestri, there will be a variety of creative projects expanding on the storyline. In an email interview, vocalist/founder September discussed the origins and development of the project.
Could you talk about the status of the 'transmedia' side of things, such as your collaboration with Marc Silvestri?
"The project started with a story at its core. Marc Silvestri was one of the first people I worked with on the September Mourning concept. He is a mogul in the world of comics and we have always wanted to bring this story to the world through comics. Since its inception, we have developed the story into a 6 issue arc, with potential for many more issues to follow. We are excited to complete the art and share this side of the project with the world. The storyline will be represented not only through comics but throughout the project in videos, music, gaming, clothing, etc."
So far you've released one song from the new album ('Children of Fate'). What made you pick this particular track? What can we expect from the rest of the album?
"We call our fans our "Children of Fate" which in turn came from the story… The character of September Mourning is a human-reaper hybrid, who feels the need to give some human souls a second chance at life, and thus disregards the direct orders of Fate. Each soul on this planet is a product of fate… thus coining the phrase, "Children of fate". On a deeper level, it is meant to be empowering. It reminds us all that we have the power to forge our own future and destiny… that nothing and no one can stand in our way of what we want to become. We love and cherish the support from our fans…. It felt appropriate to have our first release be a song dedicated to them."
https://www.youtube.com/watch?v=P-QQFuydADw
How much of the new material is music you've played live, versus never before heard songs?
"I'd say only a third of the album has been heard live. We are excited to bring the new material to life outside of the recording process."
You've described this album as telling a story. Did you have a clear concept of what this story would be going into it, or did it develop alongside the song writing?
"The project came from a storyline I developed with Silvestri a year or so before it grew into the musical side. Theatricality and visual art were always a part of this project since the very beginning; I think that's what makes us unique. Nothing is added onto the band to make it more sell-able. The theatricality is there because it has to be… It has a specific purpose… It's who I am, heartfelt and authentic."
Could you elaborate a bit on the characters and story?
"I don't want to give too much away of the story but as for the characters from it that are on stage, well…. I've explained a bit about September's character… The other reapers that join me on stage are as follows:
Riven: A reaper sent after gentle souls that are often damaged and deeply emotional…souls that have been been put through the harshness of this world and may not have survived it so easily. Riven feeds on emotion… discomfort, joy, pain… the gamut of feelings. Using the human condition's constant swell of emotion allows Riven free reign over the earth…. devouring souls as fate sees fit.
Wraith: A reaper sent after the darkest, most evil souls in this world.. .souls that have committed brutal crimes on others and feed on their pain. Wraith is the strongest, eldest, and most feared of all the reapers. He rips souls from the confines of their bodies with sheer brutality and force. His strength is directly tethered to his home plane of existence, Mortem. Due to the amount of force he exerts in this world, he must return to Mortem often to recharge his energies.
Shadou: A reaper sent after docile, simple souls… Souls that have never lived their lives in the spotlight. Shadou's weakness is the light of this world so he prefers to stalk his prey in the darkness. Strongest at night, Shadou also hunts during the day, using the shadows of this world as a portal. Always remember, where there is no light there are shadows and when shadows appear, so does he.
Stitch: A reaper sent after the most elusive of souls… Souls that may have a sixth sense that their final day is coming… Those who wish to escape their fate… A master of the time/space continuum, Stitch appears as a glitchy apparition when in actuality, he is constantly jumping between different times and planes of existence. This technique allows him to gather souls more quickly and efficiently. His twitchy appearance is the effect of being in multiple places almost simultaneously…. A Stitch in time."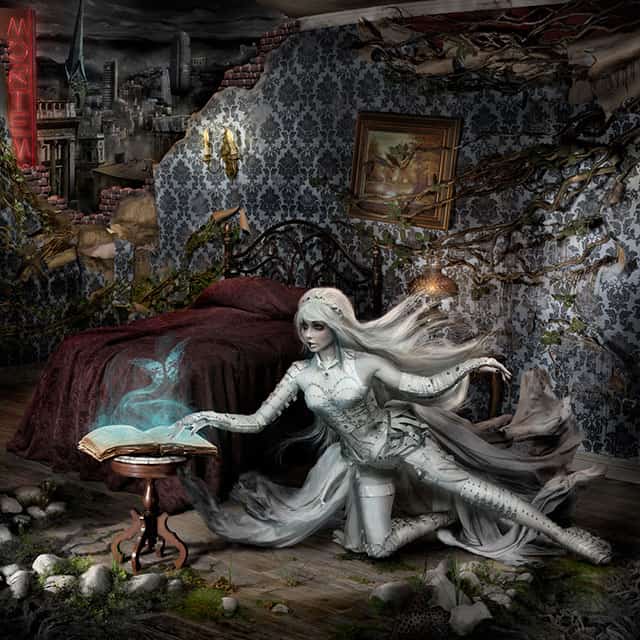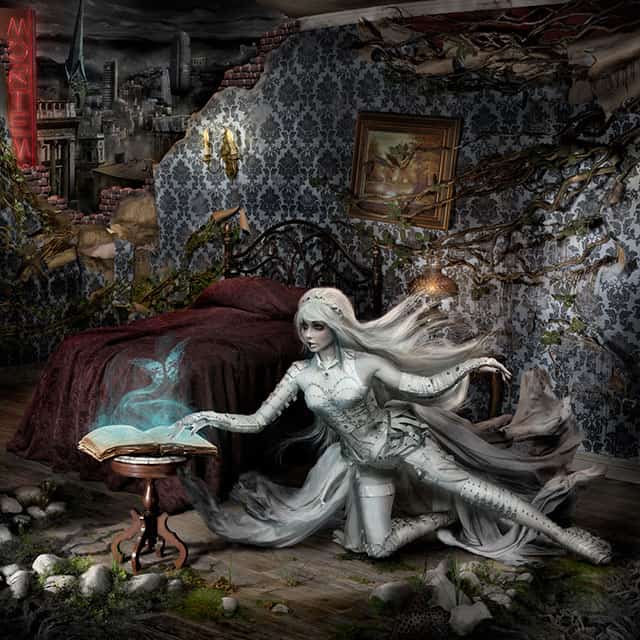 The lineup has changed a bit over the years – could you talk about the current group of musicians that you are working with? Are those who appear on the album the current live line-up?
"As a whole I would definitely say September Mourning is at the strongest it's ever been right now. The musicians we have involved are talented, driven, artistic performers who work so well off of each other. We have a united vision for this project and all of us embrace the theatricality and purpose of the project so well. I have some of the best reapers by my side right now…. Many musicians contributed to recording these songs. The current lineup has been integral in developing and performing them."
What would you say your influences are, musically as well as with the more conceptual side of things?
"I am highly inspired by visual performers/entertainers… Whether it be Bowie, Kiss, Destroid, Manson, a street artist performer, Marc Silvestri, Banksy, or even some of the visual artists I've seen perform on the lower east side of Manhattan… Art is everywhere, as is inspiration, if you choose to look. Since what you do is multifaceted, is it ever a challenge getting everything to fit together (music, visuals, narrative, etc) Not at all….Again, this project was designed for this at its inception so everything finds its place."
For those who haven't seen you live yet, could you describe what your shows are like? What can we expect when you do shows in support of this new album?
"Theatrical, dramatic, emotional… we take you out of this world and bring you into ours."
How did the making of this album compare to 'Melancholia'? Did being signed to Virgin now have any impact on the actual creative/recording process?
"Melancholia was just the band. Us, pooling pennies from the couch to record. Producing it ourselves…. the very first songs I ever wrote for this project. I feel I've come so far as a songwriter…. Getting signed gave us the financial freedom to afford to do it at a higher quality with people that have had more experience and success."
Does this album have a firm release date?
"We intend to start releasing in the spring/ summer…. we're looking at a more creative way to release this project."
Besides the album release, what else do you currently have planned?
"Videos, social media content, comics…. and other ways to tell the story… we intend to take you on a journey."
For more info, visit the official September Mourning website at septembermourning.com.