Chaos Control is a pioneering electronic magazine that has been online since 1993. While focusing primarily on electronic music, it also covers other styles and topics.
I started work on Chaos Control in 1992 when I was in my Junior year at Emerson College (Boston, MA) and writing for various local music publications. Because there were too many bands that I wanted to write about than my editors could ever use, I decided to start my own zine. Issue #1 of Chaos Control was a small, 8 page black and white photo copied magazine. The lead feature was an exclusive interview with Trent Reznor, who I met over the Prodigy on-line service, and other bands covered included Single Gun Theory, Meat Beat Manifesto, Utah Saints, and D.D.T.
That issue was sold in a few local record stores, but the majority of the copies were sold by mail order through on-line promotion. This started me thinking…. Chaos Control was designed on a computer, and distributed mainly to people with computers. So why bother even printing it? I looked around for tools that would enable to create an electronic magazine, and selected Hypercard.
Screenshots from the original Hypercard version of Chaos Control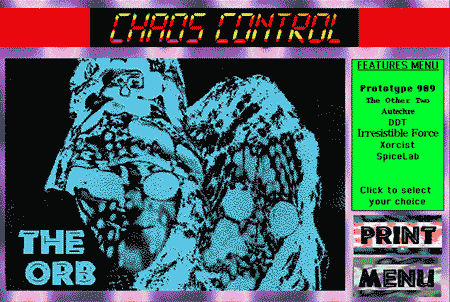 After teaching myself Hypercard, I was able to finish the first electronic issue about three months later. I featured all the articles from the printed version, plus many more, including interviews with Pigface, Stereo MC's , and ZIA.
For the next two years, the electronic Chaos Control evolved. A new issue came out every few months, and each one had a higher degree of interactivity and a stronger design. Hypertext has always been an important element of the magazine, with many of the articles appearing in completely non-linear form. As modem speeds got faster and people became more accepting of large downloads, the use of colorful graphics and audio samples from some of the featured bands started to play a bigger role.
All along, Chaos Control has just been a hobby. But at the same time, I was using it as a vehicle to experiment with and promote skills as an interactive designer. The hard work paid off in the summer of 1994, when I was asked to create a Chaos Control-style interactive promo kit for Killing Joke. Shortly after that, I was hired to create similar projects for such artists as BiGod 20, The Cult, Jane Siberry, and Mudhoney.
At about the same time, it became obvious that the self-contained downloaded format of Chaos Control needed to change. It could only be viewed on Macintosh computers, and everyone began talking about publishing on the World Wide Web. So I taught myself HTML and launched the web version you are looking at now.
-Bob Gourley
(founder of Chaos Control Digizine)
MORE ABOUT ME
With almost 20 years of new media experience, I have been creating content for the online world since before the web as we know it even existed. In 1993 I started the electronic music zine Chaos Control. Originally created in Hypercard format, 10 self-contained issues were distributed over America Online and independent online services such as The Cyberden and The Online Book Initiative.
Chaos Control led to my being hired to create interactive promotional kits of bands such as The Cult, Killing Joke, and Mudhoney. Like Chaos Control, these presentations combined text, images, and audio. Rather than simply recycle promotional materials, I would deal directly with the bands, interviewing them and getting their content ideas. This is something I strive to do whenever possible – getting the subject involved is essential to making engaging content.
From 1995 until 2000 I worked for Nettmedia, creating enhanced cds (hybrid music cds / cd-roms) for artists such as Backstreet Boys, Tommy Shaw (Styx) and KRS-One. While at Nettmedia, I also went on the 1997 and 1998 Lilith Fair tours, taking photos, shooting video, and conducting interviews for the website. In addition, I co-produced Sarah McLachlan's "Mirrorball" live DVD.
I then went on to work for Sudden Industries, where I designed, produced and programmed websites. Among other things, I was lead programmer for Bravotv.com and designed / produced / developed content for American Movie Classics' "American Pop" site. I went freelance in 2002, but continued to work on projects with Sudden as an independent contractor.
While much of my work has been with the entertainment industry, I have also done projects for a variety of other businesses and non-profit organizations. Other current clients include The American Nurse Project, Americas Quarterly, The 100 People Foundation and Time Inc.
In addition to interactive and design work, I have extensive experience as a journalist. My work has appeared in publications such as Wired, The Boston Globe, The Boston Phoenix, Online Access, and CD Review. Currently, I am a regular contributor to Please Kill Me (pleasekillme.com).
I am currently available for freelance multimedia work (website design/development, games, video editing, infographics, digital photography) – click here for more information.