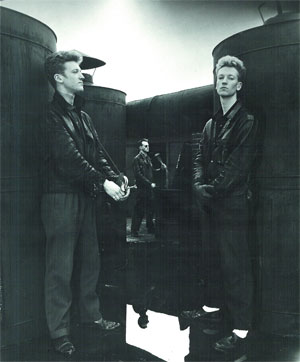 Before being online, I found out about new music mostly by hanging around records stores, and sometimes even buying CDs just because they were on a label I generally liked (especially if they had cool covers!) In The Nursery were one band I discovered that way, expecting their "Counterpoint" album (released on Wax Trax! in the US) to be along the lines of the 'industrial dance' music that label was primarily known for. I ended up being pleasantly surprised by how little it sounded like what I was expecting or had even ever heard before. While sampling and electronic sounds figured prominently, the music also had a very organic feel. Some tracks, such as "Twins," had an abrasive, Joy Division-like edge while others, like "Libertaire," had a more orchestral, cinematic sound. That soundtrack-like style proved to be the direction In The Nursery headed as their career progressed; the group has actually composed new scores for several silent films and performed them at special screenings. But now they have gone back to their beginnings to release "Aubade," a new compilation of recordings from their early years (1983 – 1985.)
In the following email interview, members Klive and Nigel Humberstone explain a bit about the release.
1) Why re-issue the material at this point in time?
NH: We've started incorporating a couple of tracks from that period into our live sets (especially during the 'Alt und Neu' tour) and really enjoyed going 'back to basics', rediscovering the passion and inspiration that helped shape those pieces in the first place.
KH: Recently I have been asked by various publishers and authors to recollect on the musical past. A guy in Poland, writing a book on Post-Punk attitude contacted me and? i agreed to put down some thoughts. Another publication in Germany, called 'Sparkling Darkness', asked me for my personal accounts and memories of early ITN circa 1980's. Especially playing concerts with Death in June and releasing our records on the NER label. The process got me thinking about the whole era, the difference in the way we communicated – i wanted to make a good job of it – i'm sure fans today, who listen to this genre of music, want to 'look back' and learn from the musical past. And to do that, you have to ensure that it is factually correct and stimulating. 'Aubade' came about for various reasons. Firstly, necessity – the earlier CDs with these songs on had gone out of print and needed to be collated and released again. Secondly, my research into the early days of ITN had uncovered letters, photographs from the period that would be perfect for the artwork. Thirdly, we had always wanted to somehow include material of our very first concert in 1981, but had never seen the opportunity – it just so happens that 'Aubade' was the first song we ever played and has remained unreleased for nearly 30 years. It seemed fitting to place it on this comprehensive collection and title the compilation after it.
2) There seems to be a Joy Division influence in some of that earlier material – would you cite them as an inspiration? Were they other bands at the time, perhaps lesser known now, who were also influential early on?
KH: The music of Joy Division was much more than an inspiration, they were our motivation! Having seen them play in 1978/9 and buying their records, we felt compelled to make music ourselves. To create an emotion with sound was the way we could express our ideas. Unknown Pleasures is easily one of the greatest albums of the post-punk era and for two eighteen year old boys at the time, the experience was a revelatory insight into what music could do to the senses. I like to think that it was an 'journey' that both myself and my twin brother, Nigel experienced together. We got into Joy Division after buying "An Ideal for Living" 12″ EP in september 1978, followed by the Factory sampler in January 1979. It was only a matter of time before their debut album became a 'must have' item as soon as it was released. All visceral and all imposing, the overall mood in the album is powered by Peter Hook's driving bass lines and Bernard Sumner's jagged guitar. Nigel was learning bass at the time and i had a guitar – so we both latched onto the appropriate sounds coming out of the album. Experiencing Punk music first-hand had given us the 'do it yourself' ethic, but listening to Joy Division gave us the vision in which to express our ideas.
I think back to many songs from that period that impressed me (Buzzcocks, Magazine) and in time i've discovered many of these new wave/punk records were produced or engineered by Martin Hannett. It seemed fitting that this 'mad-hat' producer helped shape the Joy Division sound, creating space between the instruments and leaving room for the spectral baritone of Ian Curtis. I've never tried too hard to analyze why the voice and lyrics of Ian Curtis impressed me so much – they just did. It's a visceral experience, sparking off images in the mind – creating another world.
3) Your sound has evolved quite a bit since then; do you feel you're made a conscious effort to sound unique, or has it just been a natural evolution based on your musical tastes/interests?
KH: Technology and recording techniques have changed dramatically over the last 20 years. It is strange to think our earliest releases were only recorded using guitar, bass, drums and vocals – with perhaps a little bugle and saxophone. But it wasn't long before we started experimenting with the studio technology – the advent of sampling meant we could conduct our own orchestra, computers allowed us to experiment further without the confines of renting expensive recording studios. The choice of instrumentation has changed with each recording – we like to match the use of instruments and sounds to each individual project. With 'ERA' we wanted to write a series of contrasting tracks, ones that contained a lot of heavy orchestral drumming with the signature ITN military percussion, which could be performed in the live arena along with compositions that had a more 'delicate' side to them.
4) Listening to these early recordings, what are your thoughts on the studio and musical technology of the time, versus what is available today? Are there perhaps ways that working within limitations shaped the sound in particular ways (that might not have come about if done today)?
KH: It is refreshing to hear the 'clarity' in the early recordings. Especially the songs we recorded on the Mini LP 'When Cherished Dreams Come True'. Listening to them now – brings back all the memories of? recording the night sessions at Revolution Studios in Manchester. They are very simple in their execution. Music can be a great form of memory recall and acts as a link to moments in the past. We had a clear idea of what we wanted to play. Being our first time in a recording studio, we had to re-adjust to playing the songs, individually, instrument by instrument, starting with the percussion. But, because we knew the songs so well, it wasn't a problem. The instrumentation was kept very sparse i recall – no overdubs except for one or two embellishments on the bass drum with a LInn Drum machine – which was played by hand along with the track.
5) Since your sound has changed quite a bit over the years, have you ever found inspiration listening to the early music? For example, hearing a particular element and getting an idea of how something similar could work within the context of your current sound?
KH: It all comes back to the first inception of an idea. In the early days – we wrote music using bass and guitars. That has changed over the years, but more recently Nigel has been playing bass a lot more – we have even tried playing many of the earlier songs 'old school' style and played these at live shows. It is refreshing and fun to play like this and the simplistic nature of the performances brings back the notion that writing songs and expressing yourself comes from ideas and not the technology we all crave so much for.
For more info in In The Nursery, visit their website at : inthenursery.com