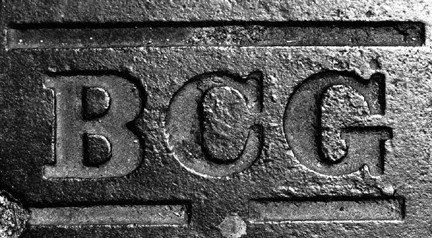 On Saturday, May 8, Boston industrial-rock legends Big Catholic Guilt will be reuniting for a performance at The Middle East in Cambridge, MA. It marks their return to the stage after a 15 year hiatus. We profiled the band back in 1993, and recently caught up with member Sam Jordan to get some details on the reunion.
Jordan says that the members of Big Catholic Guilt have remained good friends over the years, despite being separated geographically. In 2002, Jordan was writing Resurrection, "a 5 song project written on one theme during a difficult time in my life," and flew to Seattle to have BCG chief electronics expert Tim Osbourne work on some production. Drummer Perry James flew up from San Francisco to be part of the recording, and when Jordan returned to the east coast he went to Boston to work on guitar parts with Dan Bongiorno. The only member not available for this project was bassist? M. Crazz.
"The songs sounded good, but, essentially the final mixes amounted to demos, and I decided not to release them at that time," explains Jordan. "We have, however, been working on them, and will be playing these new tunes at the show on the 8th."
At some point in time, all of the samples used in the BCG live show disappeared, so the band was faced with the task of rebuilding songs from the raw samples and various bits and pieces that were found. Jordan says that this process took 1 1/2 years, after which time the band got together to see if things worked. Happy with the results, they went into the studio to create rehearsal tracks so that band members could practice individually.
The current BCG line-up is the same as it was for their 'final' show – Perry James, M. Crazz, Dan Bongiorno, Tim Osbourne, and Sam Jordan.
The reunion show will be recorded as well as videotaped with 8 cameras. As for the future of BCG beyond this performance, nothing has yet been determined.
"We are taking it one step at a time,' says Jordan. "Will we go in and record Resurrection? Possibly. Will we do shows again on any kind of basis? I can't really say. For the moment, this is a one-off show, and at this point, that is how we are looking at it. But, well, you just never know! Right now we are just happy and excited to be working together and getting ready for this performance."
For more info in Big Catholic Guilt, visit their website at bigcatholicguilt.com. They are currently offering a free download of a new recording, "Sing For Absolution" (a cover of the Muse track – the band didn't want split thematic songs of Resurrection by offering one of those tracks.)