Taking place from March 31- April 2, 2023, Dark Force Fest is a new music festival featuring some of the best established and up-and-coming Gothic, Industrial, Darkwave and Post-Punk artists. Put on by VampireFreaks, it builds upon their previous events, but with an increased focus on live music. The festival features such acts as HEALTH, Combichrist, Suicide Commando, ACTORS, Rabbit Junk, Video Vision, Empathy Test, Solar Fake, BILE, Psyclon Nine and Das Ich (see flyer below for full line-up). It will be held in Parsippany, NJ (one hour from NYC), at the appropriately castle-styled Sheraton Parsippany.
VampireFreaks is a premiere online store for Goth clothing and accessories. Founded by Jet in 1999, it has evolved quite a bit over the years, with its own social network attracting millions of users until being retired. Previously, it had put on such events as Dark Side of the Con. In an email interview, Jet discussed Dark Force Fest and the evolution of VampireFreaks.
First of all, could you discuss the inspirations behind the upcoming Dark Force Fest? I know you've done large-scale events in the past. In what ways does it build upon past experience, and what are you looking to do differently?
The goal is to keep making better events and learn from experience. We learn what works and what people enjoy. In addition we send out surveys to our event attendees to ask for their feedback. The feedback on our previous 'Dark Side of the Con' events was that people love the venue and general format but people really cared mostly about the live bands. We had all these extra things going on for the convention but we realized that people were really coming for the live bands. So based on the feedback we got, we decided to pivot and take the best parts from previous events but really focus more on the live music. So we increased our band budget, added a 2nd band room and worked on creating our best live band lineup ever. We're so proud of what we've put together and the feedback has been amazing. Ticket sales are going a lot better than previous events, all of the hotel rooms sold out really fast, and we've really got some great momentum going.
Are there particular ways that you feel it has evolved as logistics and the line-up have come together?
In terms of logistics we've definitely grown by leaps and bounds each year. Putting together a festival / convention of this scale has a lot of moving parts and you really need a reliable staff and it's important to learn from previous events.
Over the years we've learned that we need to have a significant budget towards dedicated staff, rather than trying to rely on volunteers. We've also made lots of connections over the years and have formed a reliable network of staff members that can do a good job at our event. We are a small company doing a goth/industrial music event but our goal is to run it professionally and to be ready for any situation.
In terms of the lineup, I do all the bookings myself and this has also been a process that has improved over the years. A lot of the booking process is about building trustworthy relationships with bands and booking agents. We've been doing events for 19 years and we are proud to have a reputation that people can rely on. So when someone sees our lineup posted, they know that vampirefreaks has a history of doing these events and they can expect a professional experience.

Are there any artists you are particularly excited to have on the line-up?
I try not to play favorites but this time around I'm particularly excited for HEALTH, Rabbit Junk and ACTORS. We've never worked with any of these bands before and I love featuring newer music. A lot of the bands on our lineup are bands we haven't worked with before so yeah overall I am just excited for all of the bands on the lineup!
VampireFreaks has been known for its online forums/social network, events, and store. Starting out, to what degree did you have a sense of where you wanted to take it? Were any components of it unexpected/organically evolving out of other things you were doing?
Yeah, we've gone through quite a journey over the years. We've done so many projects including the social network, online store, events, etc. We had a physical store in NYC for over 3 years which was quite the experience.
It all started out with just a basic website I made as a hobby while learning computer programming, The messageboard was our first 'social' aspect to the site, and the online store was created out of a need to pay for our web hosting expenses.
The social network was created during the Myspace / Friendster craze and it also had quite a few evolutions.
Not everything we did was a success but we learn from our failures. Currently, VampireFreaks is bigger than ever as a premiere online store for goth clothing and accessories. We have a 5,000 square foot warehouse and an awesome crew of employees working full-time year-round and we've created many products that are exclusive to our brand.
I think I was on MySpace when I first discovered VampireFreaks. I've curious about your general thoughts on how the online world has evolved over the years, as it relates to the store/site and surrounding scenes?
Well, we retired the VampireFreaks social network in 2020. A big part of that is I just wasn't happy with what the community had become and what the online world had become. I grew up in the 90s when the internet just became a thing, like I didn't have a cell phone as a kid and I didn't have a computer until I was 20. I was in college for computer science so I had to go to the college labs and use their computers because I just couldn't afford a computer.
So the internet was really just new and exciting in the late 90s and early 2000's. It just felt a lot more friendlier, like people were excited they can communicate with other people around the world. The VampireFreaks social network was released in 2004 and it really was amazing for a while, just full of like-minded goths and freaks who were excited they had a place to call home. We barely had to moderate it because people just got along and we made it easy to see what people were posting and easy to find people.
The internet nowadays is just not the same in my opinion. Trolls and scammers are everywhere and it doesn't feel like the warm and positive place I remember. Maybe I'm just old and jaded. I think the internet is an amazing tool that I am so grateful for, I love being able to discover new music so easily and being able to connect to people so easily. But it also can be scary.
Funny enough I ran a social networking site with millions of users for 16 years and now I really don't use social media at all anymore. I'll lurk here and there but now I like keeping my personal life private. Maybe I just got burned out on it. I'm happier and more productive and more successful now. I think a lot of people think the internet is real life and they have troubles telling the difference between the internet and reality. Like they get all upset about something someone said on the internet but in the grand scheme of things it doesn't matter in real life. I used to feel that the internet was a great way to escape real life but now I would rather just be social in real life.
With events like Dark Force Fest, the goal is still to bring people together and give people an amazing time, in a real-life environment where we can create a safe space and be supportive of each other. So in some ways, Dark Force Fest is a continuation of what we were trying to do with the VampireFreaks social network, but as a real-world experience.
Are you treating Dark Force Fest as something that would become an annual event?
Yep I'm already planning 2024 and already started working on bookings so stay tuned!
Is there anything else new/coming up that you'd like to mention?
Definitely check out vampirefreaks.com , we've got so many products up now including some sick products we made ourselves. I'm excited about this new plush toy we just released called 'grumpy bones bear', it's a 14-inch plush grumpy skeleton bear.
Thanks for your time and stay spooky!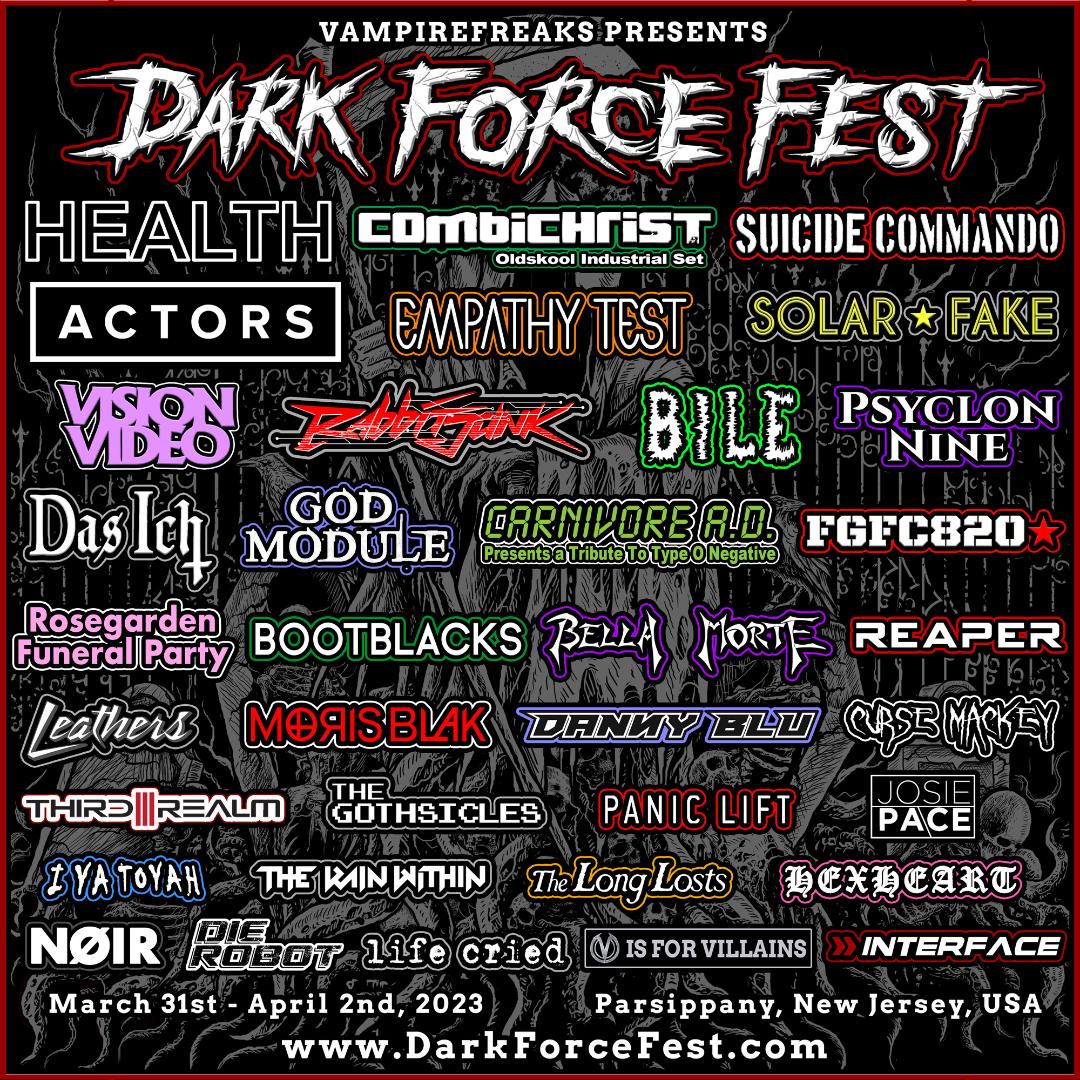 Visit darkforcefest.com for more info about the event!