In 2020, Norwegian electronic/rock group Datarock planned to be out performing in celebration of 20 years as a band and the 15th anniversary of their debut album (Datarock Datarock). But with Covid-19 shutting down live music, lead vocalist Fredrik Saroea opted to record a solo album, Rona Diaries, released last year. Now Saroea is back with Rona Diaries: The Chamber Versions Live at The Grieg Hall, Bergen (out June 10), a reimagining of the material performed live in collaboration with the award-winning BIT20 string quartet. While the instrumentation may seem unusual for this style of music, it ends up being perfectly suited to the material. In the following interview, Saroea discusses the inspirations and making of the album, Datarock, and more.
What led you to reimagine the material from your solo album with strings?
Fredrik Saroea: When COVID struck, in 2020, it was actually the anniversary year of Datarock's debut album. And that album went a lot further than we thought it was going to. We made a super weird album in 2005 [Datarock Datarock], and we really thought we made it for ourselves. But we ended up doing a thousand shows in 36 countries. That particular album became our livelihood. Both [for] me and Ketil, my partner, the kind of music we listen to doesn't really make you think that you're ever going to live off music. You just make whatever you wanna do. And then you hope to play a few experimental festivals and underground clubs. Suddenly you play Coachella, and that's really bizarre.
But what happens in the process is that you end up having a crew and … I'll put it this way. The first time we went to Australia, we didn't really know what we were doing. We went on this touring festival in Australia, and we came there with only hand luggage. So it was the three of us. And our hand luggage included a guitar, a bass, a Casio keyboard from 1984, and a MiniDisc. That was the full amount of equipment. And then we realized we were going to support James Brown on an eight-stadium tour. So that's where we come from. We never thought we were going to play [on the] main stage. We thought we were going to play [in] a tiny little tent in the corner of this touring festival.

But anyway, one year later, when things kind of got serious, suddenly we had an international record company, management, business manager, booking agents around the world, PR agents and all of that. And then you gradually start making decisions to kind of keep relevant. You know, we never tried to be relevant. We just made some whatever, weird music, to our own liking. But then, you end up with a system around you that sort of expects you to have a certain level of production and a certain level of amount of concerts. And then you just start trying to be part of whatever is happening in the world to keep relevant, which I never cared much to be. I listened to old music, and the new music I listened to was very alternative and not something that you would think you could live [off] of.

And then when COVID came, it was the 20th anniversary of Datarock and the 15-year anniversary of our album. We were supposed to do all of these celebration concerts and festivals and all of that with the 15-year-old album. So suddenly we were fortunate enough to not have to do anything to make ourselves sound up to date or in any way relevant; we can celebrate where we come from, so to speak, which sort of made us revisit where it all started, which was just completely liberating creativity. We didn't make that album thinking that any of those songs were going to take us anywhere commercially. Revisiting that first album was very refreshing. But it also took us back to like a timeless approach to music.
Because it really was a timeless approach to music on that first album. I mean, in 2005, in one of the main songs, "Fa-Fa-Fa," the riff is really inspired by "Marquee Moon" by Television. The album was inspired by James Chance and the Contortions, Gang of Four, Television, or even Yellow Magic Orchestra and Devo and all of that. That stuff wasn't mainstream relevant when we did that in 2005. So our approach was very timeless.
So first we revisit that, youthful, innocent way of working with music, and then we don't even get to perform it live because the world shut down in 2020. But that really reminded me a lot about where we came from.
And I used to be a promoter and did very similar bookings to the club Tonic in New York City. So very similar profile, at a place called Landmark at the art gallery in Bergen, Norway. So anyway, I remembered, 'hey, what the hell am I trying to do? Why am I trying to make singles that end up on the radio? ' I didn't use to care about that stuff at all. So then I just decided, well, there's nothing to do right now anyways, because you can't play festivals. You can't really play shows. There isn't really much music business going on now. So I can just as well do a solo album. I might just as well just do it for myself because that's how we made the first album and that worked out just fine.
So that's how it started. I can actually show you, I recorded the entire album in that basement. That's the neighboring house. In that basement, I recorded this whole album. I just played all the instruments myself.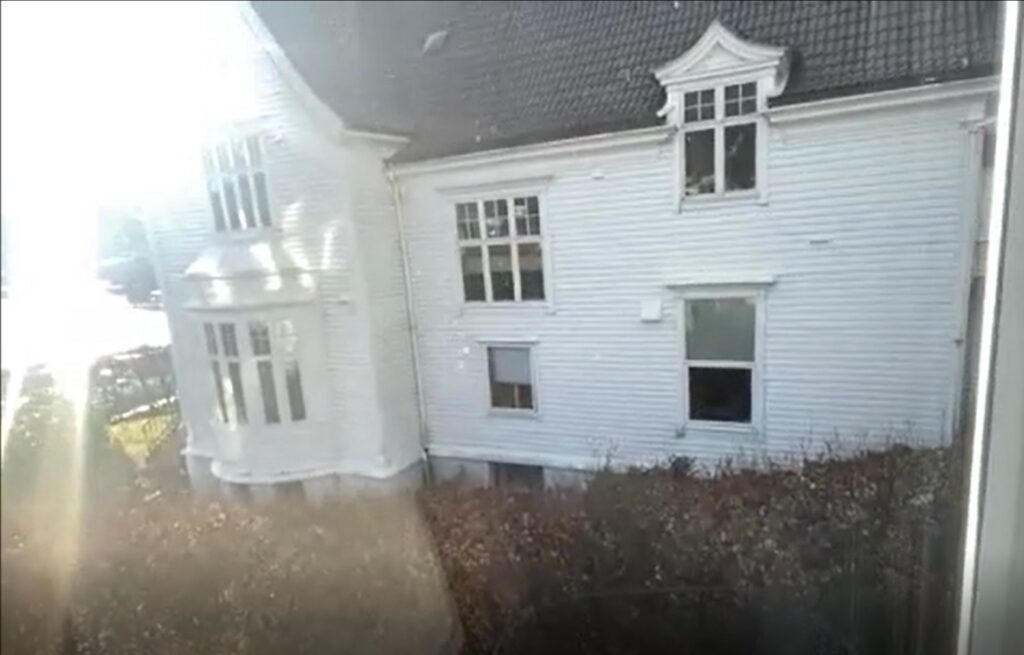 Then I released that in 2021 and by some freak accident … I lied to a big contemporary art music festival in Bergen. I lied, and I said, "oh, you know, my new album, I actually have orchestral arrangements for all the songs. So, would you want me to perform it at the festival?' And for some reason, they said yes.

And then I was kind of in trouble because then I realized that I have to make these arrangements. But the thing is, Bergen is such a small town that I know these musicians. The artistic director of BIT20 ensemble went to the same music high school as me and the saxophone player of Datarock. And we've done things together with them before. I meet those guys all the time and I go to their concerts and all of that.
The harp player, he's from Norway, but the viola player she is from Latvia and the cellist she's from old Soviet Union and the violin player he's from the United States. At each of their instruments, they are amazing, ridiculously good performers. And the guy who helped me write the arrangements, he's a professor at our music academy in Oslo and he teaches composition. I knew him from before because he once wrote arrangements for me for Datarock, when we did something called "Datarock – The Musical", a long time ago. And being able to perform with artists who care nothing about being updated when it comes to production and the kind of beat patterns, or how you structure a goddam pop song, was just so liberating. To sort of be able to tap into the timelessness of music and get away from what we're doing with Datarock.
As you were making your original solo album, were there any thoughts in your mind about the material potentially working well with strings? You'd said that you lied about having the arrangements ready, but at what point did you start to consider that this is something you wanted to do?
Fredrik Saroea: I've always been a big fan of Talking Heads. I'm madly in love with Grown Backwards by David Byrne. I think that's just such an amazing album. And reading 'How Music Works.' I did see 'American Utopia' in New York City. That was … I was crying. The tears were just running for an hour. I don't why. It was amazing. I was so impressed, but anyway, going back to my point, I really loved the arrangements that he had made for Grown Backwards. And when I was doing these songs, I was inspired by all sorts of stuff. If I'm totally honest, I would actually say perhaps the most important inspiration for the whole material is actually Sam Prekop and Archer Prewitt [of The Sea and Cake]. It's just something about how, as a duo, when they perform together, [it's] just the two of them, just two guitars. I once booked them to my club, and to see those guys just sitting there with guitars and identical fender twin amplifiers and performing for one and a half hours …and their voice[s] [are] just amazing.
Turbo Negro has always been very inspiring to us, like in the way they portray themselves and the way they worked with the career of being a band with their humor and all of that. The bass player, kind of the boss of the band, he's a very prominent Norwegian, pretty much [a] political journalist. And he had this amazing …. It's not a talk show; it's more like a debate forum on TV. And he once asked me to perform at his show or [wanted] Datarock to perform at his show. And he wanted me to sing a cover of 'You're So Vain,' and I said, 'Yeah, sure. I can do that.' But then, I don't know how I came up with it, but I said, 'I'll do it if I can perform….' And then I just said, 'with a harp cello, viola and violin.' And this was many years ago, perhaps it was 2016 or something like that. And then I just thought, it worked so brilliantly with the harp, the cello, the viola and the violin. And I knew the arranger very well. So I sort [of] assumed which direction he would take it, and we know each other very well. So it's very [easy to] communicate about the arrangements.
I know it's a very uncommon combination, but you have very audible rhythmic patterns in the harp. You have more than enough bottom in the cello. So you don't really need double basses. And then you don't need two violins. But the viola has a little bit more depth than the violin. So you really have a full spectrum of sounds in such a small quartet. What I didn't think about is how difficult it is to do performances with a harp. You can't believe it. It's so challenging. For instance, you cannot transport that instrument with a regular case. You can't just pull it along. And you can't put it in like a regular transportation cab; you need a special kind of transportation company to move them. The instrument I play on, on the album, is an ES 335 [guitar] from 1976. And I thought that was pretty cool. But then they said, 'oh, my instrument is from 1758'. 'Oh, my instrument is from 1809.'
But just being able to hear music that I made recently with sort of the arrangement and the sound of something so timeless is great. And it's without direction, by the way; you don't have a conductor, we're not even looking at each other. We just have to feel each other. On the album, there is no auto-tune or anything like that. Everything's completely natural. And the beat obviously moves a hell of a lot. It's not a BPM that goes rigidly from the beginning to the end. And if you listen to the arrangement, sometimes the violin has kind of the lead. Sometimes it's the viola, sometimes the cello, sometimes it's the harp. And we just have to feel each other's lead. So, it's a coincidence, but a very lucky one, I'd say.
You said you could do this before you were actually ready; how did this affect putting it together? Did it add pressure? Did it force you to move faster than you normally would have?
Fredrik Saroea: There's like minimum pay for that kind of expertise. The BIT20 ensemble is basically a national ensemble, contemporary art music. They're in the very highest level of a kind of bureaucratic funding of culture, so to speak. And the festival we performed at is, I think, the eldest continuous art/music festival in Europe. When an arranger is to do arrangements for an orchestra, for something like that, it's very expensive. And this was more than 60 minutes of arrangements.

But then, my friend, the arranger, said, 'We've done this before. It's pretty repetitive.' He knows that when he's happy, I'm usually happy. So there's not a lot of back and forth. The only back and forth there might be, for instance, if I'll go, 'yeah, that's gonna be very tricky to do live' and then we do some minor adjustments. So he was kind enough to give a price that I could pay. Also, there was the fact that they had already said yes, and it was kind of high profile for him. It's cool for him to have his arrangements performed at the main hall of the biggest art music festival in the Nordic countries. So he was kind enough to say, 'Oh, that'll be fun.' And he wouldn't necessarily have done it unless I already had the gig.
So he came to Bergen, and we rehearsed together with the orchestra and made adjustments. We put into the agreement with the festival that we got to record. Kings of Convenience are old friends of mine, and their sound engineer is an old friend of mine. He is the one who recorded the performance, and that's something like 48 channels of high resolution, with the very best microphones and all of that because this festival has those resources.

And then, because everything was such a coincidence and everything was so random, I reached out to Mark Rankin, who won the Grammy for 'Rolling in the Deep' by Adele, and he produced Queens of the Stone Age, Iggy Pop, Florence and the Machine, Wheezer, Harry Styles, all sorts of stuff. He thought it was so much fun that he wanted to do it also as a buddy, at a buddy price. Had all of this stuff been planned, we would never have done it, because everything would've been so tricky and expensive and hard to do. But as soon as that accident happened, it kind of snowballed into a project that realized itself, which wouldn't necessarily have happened if we had planned ahead. So it was a pretty swift operation.
Did any particular songs take on a new life with this type of arrangement, or did anything surprise you?
Fredrik Saroea: Because of those musicians and the arranger, I was very happy not to sing on the title 'Bergheim.' If we didn't have that chamber ensemble, I would have to have some words, because I would have had to sing the melody. But I didn't want to sing a melody. Very often you're just singing out of necessity because the main melody has to be present somehow. I'm very happy with "Bergheim" and I think it sounds amazing. They are so good; the musicians, they are amazing. With "Bulletproof Vest", those arrangements are amazing. It's very different. To be honest, I think all the songs are so much cooler with the orchestral arrangements than on the solo album.

You know, it's fun to do a recording where you can just play all the instruments yourself, however, it's very monochrome. There's no tension. There is no interaction. It's just everything that is played is on the same page. It's also 10 times more interesting to perform with someone who adds as much as they do. They have such an amazing take on rhythm patterns. I've played with so many musicians, and even in Datarock, we've been changing a lot in terms of who plays what. Sometimes you play with a drummer who's just so on point it's amazing. But all of these musicians are … their understanding of the lyrical nature of the melodies, the intensity of the phrasing. The way that automatically, rhythmically, everything is just so perfect. But so different to perhaps how I would have done it myself.
So I'd say all of the songs took a kind of very different life than they were on the solo album. But that being said, they're much closer to what I wanted the songs to be, than how I did it on my own solo album. So somehow, even though this is a very collaborative album, they're so much closer to what I had originally imagined, somehow. You've probably worked in a studio and you know what it is like. You add some, and you add some, and 'Hey, there's a drum kit. I'll add some drums' and then suddenly there's drums there. Then you have to put on a bass and then that's boring. So you put in a little bit of keyboard and percussion, and then before, you know it, it's a full band arrangement, even though I really just wanted the solo album to be guitar and vocals.

But also, when the arranger got to know that it was BIT20 performing with me, he started adding pretty difficult arrangements. And we actually had to change some of it because … he actually noted the most insane rhythmical patterns he wanted them to play simultaneously, which is impossible if you don't have a conductor. So he wrote the most elaborate, insane rhythm patterns for these musicians because he knew who they were. We kept some of it, like for instance, on 'Feather in the Cap,' that's very particularly made for BIT20 ensemble, because they can pull off that sort of an arrangement. So all of them took on a different life, but I love all of them.
Is this something you'd like to continue?
Fredrik Saroea: A hundred percent. I'll tell you something funny. When I started working with these four musicians, we started talking together, and we actually decided to do the show and rehearse and all of that together before it officially became a collaboration with BIT20 ensemble, because that has to go through like a board of directors and a creative leader, blah, blah, blah. It was just four musicians who happened to play in the philharmonic orchestra of Bergen, too. And the building I played in was their concert hall. Anyway, then BIT20 Ensemble's artistic director comes to me and says, 'why didn't you reach out directly to me, because they were all from BIT20 ensemble?' And I thought she was upset, and I was like, 'Oh, I'm so sorry. But it was actually the director of the entire BIT20 ensemble who directed me to them and he never said that you guys wanted to be part of it or had anything against it.' And then she said, 'Then should have called me directly. I love it. I want to be part of it!'
So what happened was that it started off with just me and four musicians, and then it became a collaboration with the ensemble. BIT20 ensemble is now 100% behind the project. We've even done … Norway has the responsibility of handing out the Nobel Peace Prize. But the second most important, similar arrangement in Norway, is something called the Rafto Prize. Very often the person who wins Rafto Prize wins the Nobel Peace Prize the next year. And this year they hired us [to perform.] We also performed at the memorial remembering the victims of the terrorist attack, on the 22nd of July in Norway. So, we've done a few performances already, and we all would love to do as many as possible.
Going back to the initial solo album, were you completely focused on it at the time, or were you also working on Datarock material? And if so, do you feel the two projects influenced each other?
Fredrik Saroea: We revisited the first album. And then when you rehearse in a small space with the same guys as you made that stuff with 15 years ago, you become that person you were 15 years ago. So with Datarock, we completely sort of remembered who we were. And there was no business, there were no fancy concerts to play or any fancy press to do. So, we really sort of got back to that super positive energy from back in the days before we sort of got pulled into the kind of rat race of music. Pretty soon after, we started writing new Datarock material. And then at this same time, I got to know Steve Dub, who produced everything for Chemical Brothers. And then I think I've been trying to push some of the songwriting style that you can hear on my solo stuff into Datarock.

For the last couple of albums. For instance, if you hear the second album by Datarock called Red, the last song on the Red album is called "New Day's Dawn," which is very much inspired by Scott Walker. That is really me trying to force my way of songwriting into Datarock. I mean, I am the songwriter in Datarock, but that's a completely different kind of songwriting. So anyway, because I started doing my solo stuff, I sort of got a free flow of creativity in that vein of songwriting and that way of playing the guitar, which is substantially more elaborate than what you do with Datarock. That allowed me to be more true to what Datarock ought to be. I sort of got intentional to what I wanted to do creatively myself on my solo material; that enabled me to let Datarock be Datarock.

So, for the first time, like one of the guys in Datarock who's been in Datarock since the very beginning, suddenly he's been co-writing half of the songs. We've finished a new Datarock album. We'll release a single before the summer, I think. Steve Dub helped us do half the album and then Mark Rankin is doing the second half, kind of overlapping. I made my solo album, and we started doing the Datarock material and the new solo album with BIT20.
What was it like appearing on Yo Gabba Gabba! with Datarock?
Fredrik Saroea: It was really, really funny. We actually got to know some of the guys involved in "Yo Gabba Gabba!" backstage after we played Coachella in 2008. Which was really hilarious, because when we played Coachella, Coachella wasn't what it is today. The main artist on Coachella that year was Prince. It wasn't some EDM artist. Coachella in 2008 was very, very cool; you had Justice and Kavinsky and Battles. It was very interesting. Backstage, I met Perry Farrell. It was just more interesting than certain other artists you could meet at Coachella today. The first guy I meet backstage was Elijah Wood. Elijah Wood is a huge Data Rock fan. And I'm like, 'what? really? That's bizarre'. And then I have a friend, this guy called Justin, who was involved in "Yo Gabba Gabba!" He told me that "Yo Gabba Gabba!" is basically made by guys from Aquabats, and Aquabats is not that different from Datarock, kind of.

So, they asked us if we wanted to do it. And, we all have children. My children are 12 and 15 now. And we're like, 'ah, that's amazing. We get to be part of this really, really cool children's show, which is very funny for the adults too.' And then "Smile for the Camera" was something we could really relate to because our communication with our families and mothers and grandparents and children was really via screens, back then we toured 250 days a year. On average, we performed in 20 countries on four or five continents every year. So our communication with our kids was really through Skype. Our children thought we were two dimensional. I would have to do things like have something and my wife would have the same thing in her hand, and I would pretend to give it to her through the screen and she would pull it out of the screen. So for them to see us in such a fun children's entertainment show was very cool. And also, I collect designer toys, so I obviously bought all the toys, all the characters from "Yo Gabba Gabba!", and I think I have all the episodes on DVD. So yeah, I think "Yo Gabba Gabba!", if you could take part in anything, it's one of the coolest to take part in.